Posted on July 30, 2014 at 8:17 pm
Canawrap has searched for years for a perfect vehicle wrap after care product that can serve as a full wash, wax and wrap protective solution for our customers vehicle wrap graphics and by teaming up with Total Wrap Care and Croftgate USA we can now supply these products directly to our customers!
We now provide Wrap Care JP wash/wax and protector for our commercial printed vehicle wrap graphics, every full wrap that leaves Canawrap rolls out with a full 32 oz. bottle of this premium product that will keep your wrap looking bright, bold and beautiful! Making sure your marketing investment lasts as long as possible.
We also provide Wrap Care JP-M for our matte wraps, this is the very best wash and protector that will not only wash and protect your matte wrap but take off those annoying finger prints!
This changes the game for vehicle wrap care by taking away the hose/sponge/wax/buckets etc. etc. it's a full "waterless" wash solution, it's saves down time and keeps your vehicle wrap on the road looking perfect!
If you want to get more information about these products, head over to www.totalwrapcare.com OR get in touch with a Canawrap representative and learn how to properly care for your vehicle wrap!
Posted on June 4, 2014 at 5:19 pm
Canawrap was tasked by Tim Hortons Canada to transform their Dodge Caravans in to Official Tim Hortons "Coffee Cruiser" units to help celebrate The Time Hortons 50th Anniversary!
In break neck speed Canawrap Designed, Produced and Installed the Tim Hortons units in Vancouver, Calgary, Edmonton, Fort Mcmurray and Winnipeg
Also check out the video monitors in the Tim Hortons restaurants and you will see our custom Canawrap vehicle wrap design as part of some of their advertising!
Get in touch with Canawrap any time for service in Vancouver, Edmonton, Calgary and Winnipeg!
Posted on April 25, 2014 at 2:57 pm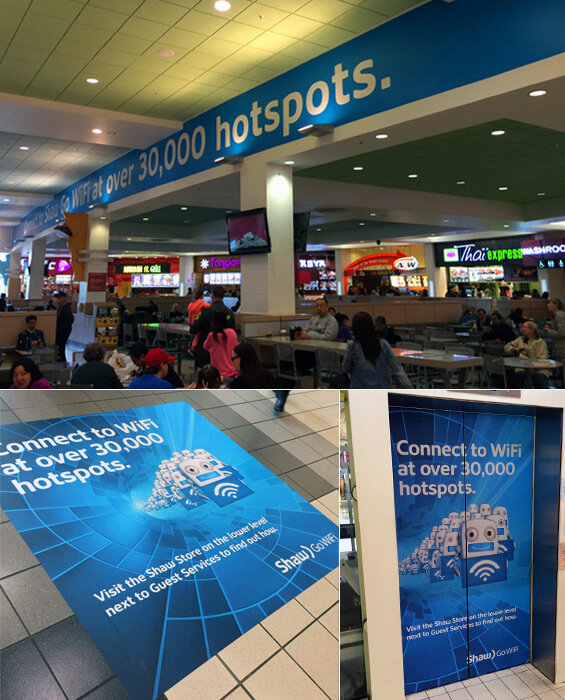 Canawrap is a supplier of graphics solutions from top to bottom!
We recently completed a graphics package for our friends at Shaw and Coquitlam Centre for the Shaw "pop up" store location. Wall mural graphics, floor graphics, elevator wrap graphics, mall hoarding, window wraps and a gigantic show stopping mural that spans the entire food court were produced and installed by Canawrap and it turned out great!
For all of your graphics solution get in touch with Canawrap today!
604-520-1164 | info@canawrap.com